Seit 2010 halte ich Vorträge über die chinesische Kultur. Aktuell sind in meinem Programm Vorträge über die chinesische Namensgebung, die Peking Oper sowie die einheimischen Religionen Chinas.
Referenz
"Rund 20 Interessierte liessen sich von Katri Näf in die Geheimnisse der chinesischen Namensgebung einweihen. Katris breites Wissen und ihr regelmässiger Einbezug des Publikums, welches als direkt und/oder indirekt Selbstbetroffene mit eigenen Erfahrungen die Ausführungen bestätigte und ergänzte, machte die Veranstaltung zu einer sehr lebendigen, abwechslungs- und lehrreichen Angelegenheit. Dankeschön!"

Ursula Wu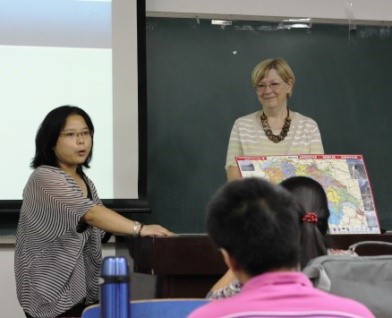 Für Ausländer halte ich Vorträge über die gesellschaftliche Entwicklung der Schweiz.

Dieses Bild stammt von der Universität für Wissenschaft und Technologie in Beijing, wo ich 2012 einen Vortrag über die Schweiz hielt.
Referenz
"Ms Katri Naef gave a talk to a group of students in my department on the historical development of Switzerland. Her power-point presentation was very interesting and clearly structured including pictures of a country unknown to most of the listeners. The students showed great interest in what they heard and made many question during and after the presentation. We warmly welcome Ms Naef back in Beijing."

Associate Professor Ph.Dr. Zhao Xiao Yan, University of Science and Technology, Beijing, People's Republic of China
Referenz
"Ms. Katri Naef visited my laboratory and told us about her home country Switzerland at a faculty meeting. The listeners found her power-point presentation about the historical development of the Swiss Confederation very informative. They also enjoyed seeing the beautiful pictures of the country that supplemented the informational part. There was a good discussion with many questions after the presentation. I can warmly recommend Ms. Naef as a competent and interesting speaker."

Research assistant professor, Shi Xuanling, School of Medicine, Tsinghua University, People's Republic of China.
Mehr über meine Interessengebiete in der chinesischen Kultur finden Sie in meinem Blog lifeinchinatoday.com.